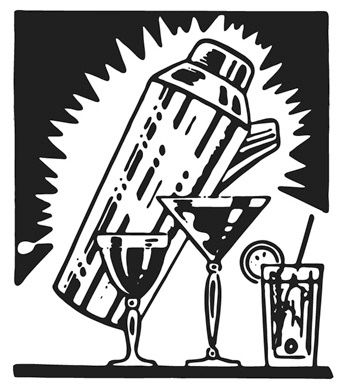 **All guests must be of legal drinking age*
Bartending Services
Take the stress out of your next soiree and let us make the drinks while you enjoy the party! (Groups of 50 or less).

Classes
Curious about cocktail basics, or looking to improve your mixing skills? Let us design a class to get you up to speed. Perfect for club meetings and small groups!

Consulting
Restaurant and bar owners--need an assist putting together a cocktail list? We can help!

Personal Shopping
Is shopping at the local liquor store a daunting proposition for you? Let us accompany you on your next trip, help you wade through the myriad spirits and sundries available and pick out just what you need for your home bar.

Pick A Spirit
Interested in a sampling of libations featuring a particular spirit? We'll come up with some classic cocktails that utilize it, and the stories behind the creation of each one.

Clean Out The Liquor Cabinet
Do you have a bunch of forlorn spirits crowding the back of your liquor cabinet? We can dust off those old bottles and come up with some fun, custom creations just for you!
Pick A Theme
Want to sample cocktails associated with a particular time period or location? We can custom design a program featuring four cocktails with your theme in mind.

Punches and Custom Concoctions
We can also create one-of-a-kind punches and signature cocktails for your event. Just send us a message!

Caterers
We'd love to partner with you! Drop us a line and let's talk!

Libation Education Programs
Our programs focus on specific cocktails or genres of drinks. We not only demonstrate how they're made, and let guests sample the results, but we also talk about the history of the drinks, and how they evolved. Guests get recipes they can try at home, as well as a suggested reading list so they can further their own libation education. (Groups of 15 or less).